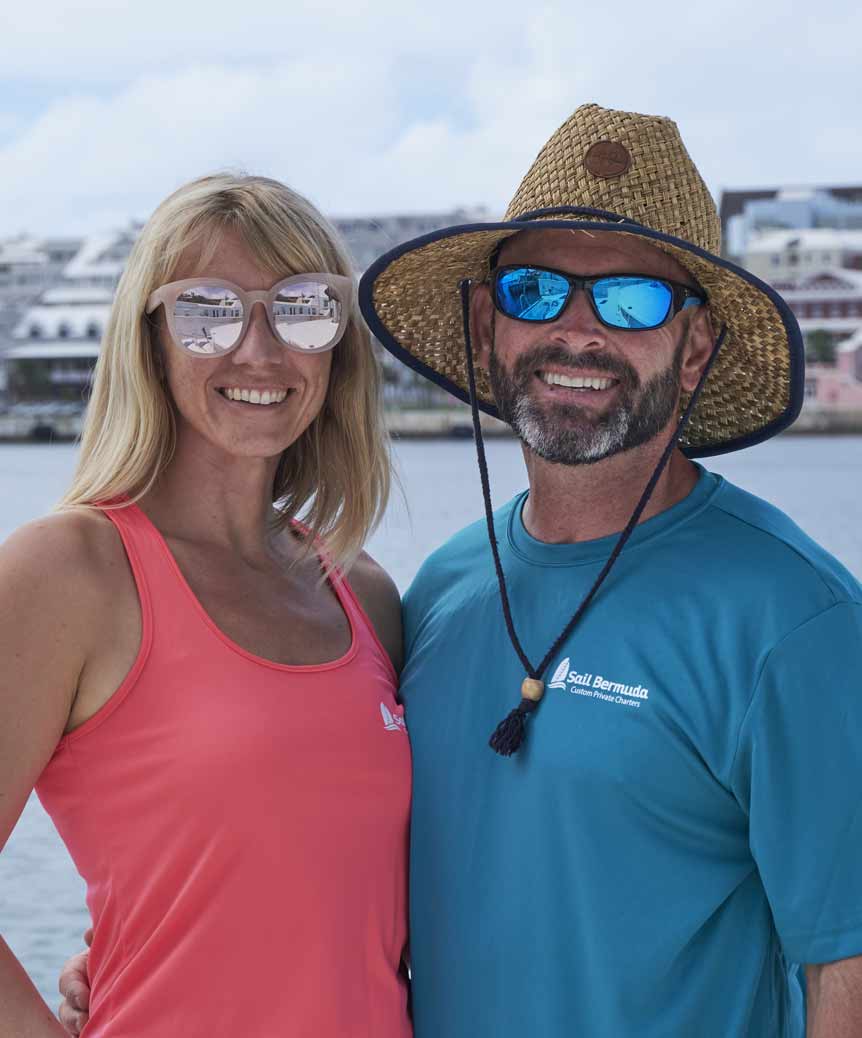 Sail Bermuda is owned and operated by husband and wife team, Caleb and Marilyn Zuill. The Zuill name goes all the way back to 1714 in Bermuda and enjoys a rich history in ship building and voyaging.
Today, Caleb and Marilyn carry on that tradition with Sail Bermuda, the Islands' premier Bermuda charter sailing and snorkeling operation. They are ably assisted by an experienced team of passionate captains and charter crew, who provide clients with the highest level of safety and service in the industry. Read more about each awesome crew member below.
Tiana, our brilliant Operations Manager and First Mate, brings with her a wealth of experience working on the waters of Bermuda. Her knowledge of the local waters, together with her skilled boatsmanship and ease with people comes through in everything that she does for Sail Bermuda. Whether it's communicating with clients or providing an excellent service onboard, Tiana's easy-going nature will make everyone feel welcomed and relaxed!
Chervonne, a straight A student is actively pursuing her studies at Bermuda College. She has a hard-working mentality combined with a positive and gentle spirit. Chervonne has a gift for making people feel at ease and will ensure that when you are onboard, you get the only the best experience possible! Luxury dining or relaxed picnics onboard, Chervonne can set it all up and provide excellent service for all of it.
Brad has spent years enjoying and working on the waters of Bermuda. Insurance broker by day, sailing captain by night, Brad knows how to create a professional but relaxed environment, especially for those in the corporate world seeking a reprieve from the office. Brad loves the thrill of sailing and won't waste an opportunity to get the canvas up for a cracking good time. When he gets one of our cats up to speed, you won't fail to see the smile on his face!
Chris carries on the island boy tradition with a passion for the outdoors and the ocean. He also lives an active lifestyle with a carpentry side business and raising three small children under the age of 7. Chris' love for Bermuda shines through when he shares his knowledge about Bermuda. He will gladly take the plunge and show our clients the best snorkeling and cliff jumping spots! With Chris onboard you're guaranteed to have an amazing time!
Whenever you meet Alonzo, he is sure to have a smile on his face! The most recent addition to the Sail Bermuda Team, Alonzo brings a light-hearted and easy-going vibe to our charter experiences. His love for Bermuda comes through in his commentary and eager willingness to go exploring above and below the surface. Before you end your charter, we are confident that you will share Alonzo's love for our island home!